At a Glance
Description
Designed for historians and educators, this site provides high-quality primary sources from American history.
Website
Producer
Gilder Lehrman Institute of American History
Gilder Lehrman Institute of American History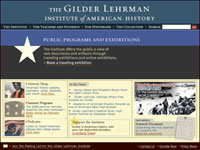 This large, attractive site provides high-quality material on American history for historians and teachers. The collection contains more than 60,000 "rare and important" American historical documents, images, and objects from 1493 to 1998; about 10,000 of these are available online. Authors include George Washington, John Quincy Adams, Harriet Beecher Stowe, Frederick Douglass, and Abraham Lincoln.
Each week an annotated, transcribed document is featured, and an archive contains 80 past featured documents. "Treasures of the Collection" offers 24 highlighted documents and images. Six online exhibits cover topics such as Alexander Hamilton, the Dred Scott decision, Abraham Lincoln, and topics such as freedom and battles. Podcasts with historians address issues such as Presidential history and the Great Depression. Additional resources include links to historical documents, published scholarship, and general history resources on the web.