At a Glance
Description
If you need World War II visuals, this is an excellent place to start searching.
Website
Producer
National Archives and Records Administration
Pictures of World War II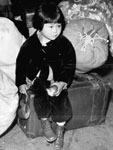 This National Archives and Records Administration online archive offers selected photographs depicting Americans' activities during World War II. The 202 photographs, drawn from the Still Picture Branch of the National Archives, primarily came from the records of the Army Signal Corps, Department of the Navy, Coast Guard, Marine Corps, and the Office of War Information. They represent all aspects of wartime preparation, from military training to combat and support services, as well as the homefront activities of civilians and war agencies. They are grouped into 22 subjects, including eight regions of Europe and the Pacific in which Americans fought, and other topical categories such as: the Homefront; Rest and Recreation; Prisoners; The Holocaust; Death and Destruction; and Victory and Peace.
Images include leaders like Franklin D. Roosevelt, General Dwight Eisenhower, and Adolph Hitler, as well as posters from homefront rationing and war bond campaigns, Rosie the Riveter posters, combat photographs of invasions and scouting missions, and images of entertainers like Danny Kaye and Bing Crosby visiting the troops. Each photograph is accompanied by a 15-25 word caption with the title, photographer, location, and date the photograph was taken. This site is ideal for those interested in illustrating reports or lectures on Americans' contributions to World War II.