At a Glance
Description
Approximately 20,000 documents provide a window into President Abraham Lincoln's life.
Producer
American Memory, Library of Congress and Lincoln Studies Center, Knox College
Abraham Lincoln Papers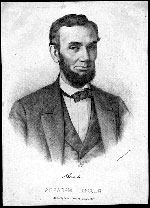 This website features approximately 20,000 documents relating to President Abraham Lincoln's life and career. All of the materials are available as page images and about half have been transcribed. Resources include correspondence, reports, pamphlets, and newspaper clippings. While the documents date from 1833 to 1897, most material was written between 1850 and 1865, including drafts of the Emancipation Proclamation and Lincoln's second inaugural address. A chronological index offers names of correspondents and document titles.
Special presentations on the Emancipation Proclamation and the Lincoln assassination provide introductions, timelines, and 24 images of related documents and engravings. Additional resources include 16 photographs of the Lincolns and key political and military figures of Lincoln's presidency. This is an excellent resource for researching Lincoln's presidency and American politics prior to and during the Civil War.