At a Glance
Description
One of the few resources dedicated to Seneca Village and the creation of Central Park.
Website
Producer
New-York Historical Society, New York Public Library, and Institute for Learning Technologies, Columbia University
Seneca Village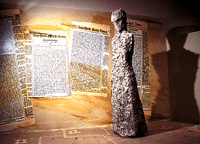 An introduction to Seneca Village, a multi-ethnic community of African Americans and Irish and German immigrants destroyed by New York city officials in 1857 to clear land for Central Park.
Through a selection of materials, currently limited to maps, images, and secondary essays, the site furnishes background on both Seneca Village and Central Park more generally. Also suggests "classroom activities" and provides a list of 63 related titles.
Based on The Park and the People—an award-winning history of Central Park by Roy Rosenzweig and Elizabeth Blackmar—the site promises to expand significantly (but, as of October 2000 had not changed significantly from when it was launched a few years earlier). "Primary documents will include the New York State Manuscript Census for 1855; birth and death records; church registers and records; newspaper articles; political cartoons, drawings, illustrations, photographs, and maps. Many of these will be interactive, so that students can query the data directly. "