At a Glance
Description
Primary sources from Philadelphia's 1876 Centennial Exhibition provide a view of the U.S.'s industrial development.
Producer
Free Library of Philadelphia
Centennial Exhibition, Philadelphia 1876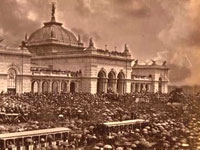 The International Exhibition of Arts, Manufactures, and Products of the Soil and Mine, unofficially known as the Centennial Exhibition, was held in Philadelphia in 1876 and was attended by more than nine million people. This website presents 1,500 images, including photographs, lithographs, engravings, maps, scrapbooks, and albums, searchable by keyword or subject, on this event.
"Exhibition Facts" provides statistics, a summary of the fair's significance, photographs of buildings erected by foreign nations, and images of sheet music. A timeline traces the fair's lifespan from the 1871 Act of Congress that created its planning commission to the removal of exhibits in December 1876. A bibliography lists more than 130 related works and 17 websites. "Tours" features an interactive map of the fairgrounds. "Centennial Schoolhouse" offers activities, including excerpts from a 17-year-old boy's diary. This website provides revealing images of the event that introduced America "as a new industrial world power."