At a Glance
Description
This extensive database contains influential documents and literature spanning from 500BC to the 1800s.
Website
Producer
Rick Gardiner, Ph.D. Candidate, History Department, Marquette University
The American Colonist's Library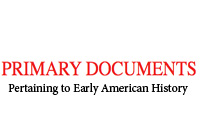 This website, maintained by graduate student Rick Gardiner, is a gateway to sites that contain well over 500 primary documents and literature that was "most relevant to the colonists' lives in America." The collection is arranged chronologically and divided into five time periods: 500 BC to 500 AD contains works by classical philosophers and poets such as Aristotle and Socrates, the Bible, and works by figures such as St. Augustine; 500 AD to 1500 contains such works as the Laws of William the Conqueror, Magna Carta, and English law treatises; 1500-1600 provides such documents as the writings of Martin Luther, letters by Christopher Columbus, and Foxe's Book of Martyrs; 1600-1700 contains a variety of colonial maps and charters, an indentured servant's contract, the works of John Smith of Jamestown settlement and John Winthrop of Plimouth Plantation, among other documents; and 1700-1800 contains such documents as the Virginia Slave Laws, William Byrd I's diary, and the works of Lord Bolingbroke.
Each chronological category divides the documents into 15 to 25 subject categories. While there is no keyword search, the site's chronological and subject divisions make it easily navigable, and it provides a wealth of resources for those particularly interested in political, cultural, religious, or constitutional early American history.