At a Glance
Description
What happened between 1880 and 1910 in the area where you live?
Producer
Library of Congress and NEH
Chronicling America: Historic American Newspapers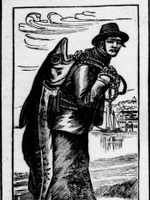 This website serves as a comprehensive resource for information on newspapers published in the United States from 1690 to the present. Its digital content comprises more than 680,000 individual newspaper page images drawn from close to 100 newspapers published in California, the District of Columbia, Florida, Kentucky, Minnesota, Nebraska, New York, Texas, Utah, and Virginia, between 1880 and 1910. Large cities are well-represented (for example, Washington D.C., and New York), as are medium-sized cities (Richmond, VA, and Louisville, KY) and smaller towns (Berea, KY).
This content is fully keyword searchable, and search terms appear highlighted on each newspaper page. Newspaper pages can then be zoomed for detailed viewing and downloaded in high-quality .jpg or .pdf format. By 2011, the website plans to include newspaper page images dating back to 1836. The website also provides basic publication information about more than 11,500 newspapers published from 1690 to the present. This information includes date, place, and frequency of publication, as well as holdings information for researchers interested in visiting the libraries where these newspapers are kept. The database can be searched by keyword, language, ethnic audience, or labor focus (from "agricultural industries" to "woodworkers").