At a Glance
Description
More than 6,000 images related to U.S. social conditions and institutions.
Producer
Harvard University Art Museums
The Social Museum Collection at Harvard University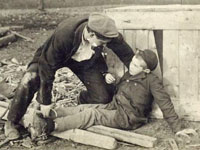 Harvard University's Social Museum was established in 1903 as part of the University's newly-formed Department of Social Ethics, devoted to the comparative study of social conditions and institutions in the United States and abroad. This website presents more than 6,000 images from the Social Museum's collection, including photographs, pamphlets, prints, and architectural drawings. Images are available though an extensive search function, with a keyword search, artist list (including photographers Lewis Hine and Francis Benjamin Johnston), and 37 topics (e.g. anarchism, charity, government, health, education, housing, Socialism, and war). Also available is an online exhibit that introduces three of the Social Museum's primary subjects of study: Poor Relief, Social Justice, and Industrial Betterment. This section can serve as an introduction for those unfamiliar with the progressive era and early 20th-century social reform movements in the United States and abroad.