At a Glance
Description
This website contains a vast collection of resources on Texas history and culture.
Website
Producer
Texas State Historical Association
Handbook of Texas Online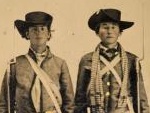 With more than 25,000 articles and 3,000 authors, this website offers students and teachers a broad scope of topics, with in-depth analysis from scholars and amateur historians across dozens of universities and historical associations. Material on the site can be accessed alphabetically, or by browsing articles using the left-hand navigation column ("title", "what", "when", "where", and "who"). In addition, the site contains three major subsections: "The Handbook of Civil War Texas," "The Texas Lighthouse Series," and "The Handbook of Texas Music." Visitors can also subscribe to the site's RSS feed to receive a "Texas Day by Day" feature.
The Education section offers teacher resources and more than 20 lesson plans. Most of these materials are for grades four and seven (state history), but they have applications across grade levels. Lesson plans are arranged by topic, grade level, and state standards—useful for educators in Texas and across the country.
Due to the sheer volume of entries in this site, becoming familiar with the dozens of subcategories in the left-hand column is a good place to start. The search engine may also prove helpful when looking for a keyword or phrase.