At a Glance
Description
Access over than 78,000 digital government resources—from textual records to sound recordings and everything in between!
Producer
National Archives and Records Administration
Archival Research Catalog (ARC)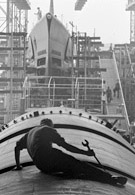 ARC offers more than 78,000 digital government resources. Materials include textual records, photographs, maps, architectural drawings, artifacts, sound recordings, and motion pictures dating from the colonial period to the recent past. ARC includes items on presidents, the military, war, immigration, Japanese-American internment, slavery, science, prisons, federal programs, the environment, the National Park Service, foreign affairs, civil rights, African Americans, and American Indians.
To begin a search, click on the yellow "search" button near the top left of the ARC webpage. The search engine is clearly organized and invites queries on specific historical materials or general themes. To access digitized materials only, check the box marked "Descriptions of Archival Materials linked to digital copies." The site continues to expand, though, as it stands, it provides an exceptional collection of government material.