At a Glance
Description
"When Vaudeville died, television was the box they put it in," according to Bob Hope. Read essays on his life and career.
Producer
Library of Congress
Bob Hope and American Variety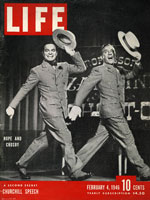 This tribute to Bob Hope examines his contributions to American culture and entertainment. The site includes a short (1,000 words with 150 photographs) history of vaudeville in the United States and four essays (1,000 words each) examining vaudeville's legacy. There is a 3,000-word biography of Hope, covering most of his 70-year career, and sections that deal with each of his many careers specifically. His early radio work, his long movie career, and his many television appearances are all documented.
Of particular interest are the 26 Bob Hope caricatures in photograph, cartoon, and sculpture. The Joke File includes six pages (out of a massive collection that exceeds 85,000 pages) of Hope's seasonal material. On the Road: USO Shows documents Hope's commitment to America's armed forces by highlighting his many trips overseas to entertain American troops. Although the essays are useful in explaining the relationship of vaudeville to American culture, the strength of the site is its approximately 250 primary sources (mostly photographs and documents).