At a Glance
Description
View Virginia's antebellum architectural culture.
Producer
The Library of Virginia
Virginia Historical Inventory (VHI)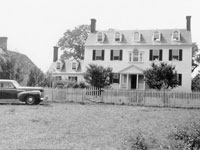 Furnishes more than 19,000 survey reports, more than 6,200 photographs, and 103 annotated county and city maps that document the history of thousands of structures built in Virginia prior to the Civil War. Original research was gathered in the late 1930s by the Virginia Writers's Project, a branch of the Works Progress Administration (WPA), and includes information compiled by field workers through onsite investigations—including interviews with residents—and by using court records and other local resources. Provides descriptions of architectural details, histories of buildings, lists of owners, and in many cases photographs and sketches. The project was "specifically charged with describing the vernacular architecture and history of everyday buildings built before 1860: homes, workplaces, churches, public buildings." Also includes materials on cemeteries, tombstones, antiques, historical events, personages, land grants, wills, deeds, diaries, and correspondence.
Provides a 5,600-word essay on the project's history. Users may search reports, maps, and photographs by keywords; includes specific instructions for genealogical research and for finding documents dealing with the Civil War and African American history. Site creators note that many of the structures documented by the project "no longer exist, and the VHI photographs may be the only extant visual records of them." A valuable resource for those studying the material culture of Virginia's past.