At a Glance
Description
An informative introduction to the practice and excitement of historical research.
Website
Producer
National Archives and Records Administration
The Digital Classroom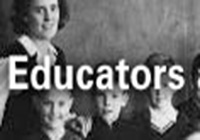 A series of activities, primary documents, lesson plans, links, and worksheets designed to encourage "teachers of students at all levels to use archival documents in the classroom."
Includes tasks to help students understand how to use National Archives materials; 20 thematically-oriented teaching activities covering the period from the Constitutional Convention to Watergate; detailed information about National History Day, an annual educational program and competition; and 35 lessons and activities organized around constitutional issues ranging from well-known patent cases to the Civil Rights Act of 1964 and the establishment of the Equal Employment Opportunity Commission.
Many of the activities correlate to specific sections of the National History Standards and the National Standards for Civics and Government. Also contains a handful of links and material about books, workshops, and summer institutes for teachers.
A well-organized introduction to the practice of historical research.