At a Glance
Description
Visit this website for a comprehensive introduction to the Vietnam War.
Website
Producer
Robert K. Brigham, Department of History, Vassar College
The Wars for Vietnam: 1945-1975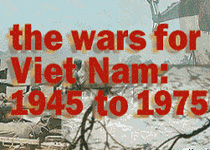 An introduction to the history of the Vietnam War, this site was developed for a course taught by Robert Brigham, "the first American scholar given access to the Vietnamese archives on the war in Hanoi." The site offers a 3,000-word overview of the war and features 20 primary documents, including the 1954 Geneva Peace Accords, the 1964 Gulf of Tonkin Resolution, and several items translated by Brigham, such as a 1965 letter from the Hanoi Politburo to the Communist Party in the South. Also includes 47 links to related resources, historical and contemporary. A useful site that concentrates on the military and diplomatic dimensions of the war.