At a Glance
Description
What is New Urbanism, and does it effect you? Will it affect the way you buy a home, or where the homes are located?
Website
Producer
Congress for the New Urbanism
Congress for the New Urbanism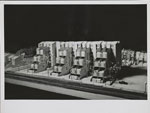 This resource center was designed for students and citizens interested in the New Urbanism movement. Most of the substantive materials are located in the "Resources" section, which contains reports on different planning projects undertaken by New Urbanists, a bibliography of suggested readings organized around different topics (such as housing, policy, and retail), and an image bank containing visual materials from a host of different design sites. A special search feature allows visitors to search by state for New Urbanist developments across the country. Containing very little in the way of historical resources, this site is instead an introduction to the philosophy and aims behind New Urbanism.