At a Glance
Description
Winning a war using...food? Explore sources concerning World War I and gastronomical homefront movements.
Producer
University of Wisconsin
Recipe for Victory: Food and Cooking in Wartime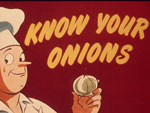 This collection includes primary documents about the food conservation program that took place in the United States during World War I. During this time there was great need for food in Europe for both the military as well as civilians. The U.S. Food Administration created programs to conserve food. "Meatless Tuesdays" encouraged Americans to limit their consumption. Other programs promoted the establishment of "war gardens," small backyard kitchen gardens in which people grew their own vegetables. The collection also includes books that describe these programs and explain how to preserve and cook food.
Although the 45 sources are listed without annotations and in no particular order, the website has a solid search feature. Teachers could introduce this website by searching the word "poster" and using the images of government-created posters to start a classroom discussion on limited resources during World War I. In addition, students should be shown the use of the "display gallery view" feature when looking at their search results. This feature makes it much easier to find relevant information at a glance.
Teachinghistory.org Teacher Representative Todd Beuke wrote this Website Review. Learn more about our Teacher Representatives.