At a Glance
Description
Meet Barbara McClintock, Nobel Prize-winning geneticist best known for discovering genetic transposition.
Website
Producer
National Library of Medicine
The Barbara McClintock Papers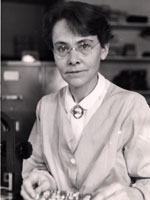 Presents more than 200 items—including 51 articles, 28 lectures, 84 letters, and 35 photographs—by and about the Nobel-winning geneticist Barbara McClintock (1902–1992). Through experiments with maize in the 1920s and 1930s, McClintock discovered that genetic changes occur when chromosomes break and recombine, a process called "crossing over." In the 1950s, upon finding that genes "jump" around, she investigated the effects of transposable genetic elements.
The site includes an exhibit divided into seven chronological sections with a 4,000-word essay presenting McClintock's career highlights, accompanied by links to relevant documents and visuals. Materials in the collection can be retrieved through searches—basic and also geared to scientists—and in chronological and alphabetical listings. Valuable for serious students of genetics as well as those studying the history of American science and professional women.