At a Glance
Description
View African American life in Pittsburgh between 1930 and 1970.
Producer
University of Pittsburgh Department of History
Documenting Our Past: The Teenie Harris Archive Project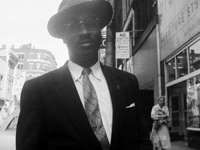 This archive of 1,500 photographs taken by Teenie Harris, photographer for the Pittsburgh Courier, "one of the largest and most influential Black newspapers in the country," documents African American urban life in Pittsburgh from the 1930s to the 1960s. This is a sample of the 80,000 images that make up the full collection. Many of the images have not been identified and the site's authors ask assistance (a submission form accompanies each image).
Visitors can browse the collection through 15 galleries of 100 images each. They can also comment on images and view the comments of others. Following the link to the Teenie Harris image collection in the Historic Pittsburgh Images Collections at the University of Pittsburgh allows visitors to browse the 541 images that have been identified with full captions. The site also offers a chronology of Harris's life. This site is useful for researching the history of Pittsburgh and its African American community as well as urban history or African American history in general.