At a Glance
Description
The 46 first-person accounts on this website effectively chronicle slavery in the United States.
Producer
Steven Mintz, University of Houston
Excerpts from Slave Narratives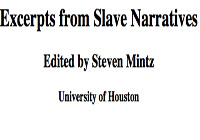 Unadorned and easy to navigate, this comprehensive website contains 46 first-person accounts of slavery and African life dating from 1682 to 1937. Each document is introduced with an illustrative sentence or short paragraph that describes the historical context.
There are both recognizable and unknown actors in this website. Former slaves such as Olaudah Equiano, Frederick Douglass, and Harriet Tubman, as well as white abolitionists such as John Brown express forceful, if familiar, condemnations of slavery.
In addition, there are unheralded historical voices that not only speak poignantly, but also reflect different (African-centered) perspectives. For example, a ship doctor's searing report of the Middle Passage; a slave husband's anguished letter to his wife after she was sold; and black social reformers' protests against the cruel punishments of slave owners.
When taken together, the assembled testimonies, including those by women, present slavery as a deeply entrenched institution that provoked a wide range of compelling commentary.