At a Glance
Description
What role did runaway slaves and free African Americans play in the Second Seminole War?
Producer
J.B. Bird, University of Texas
Rebellion: John Horse and the Black Seminoles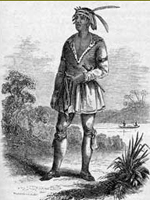 Using images, maps, timelines, and essays this "web-based documentary" relates the story of John Horse and the Black Seminoles, a community of free blacks and fugitive slaves allied with the Seminoles of Florida in the 19th century. Taking the position that academic historians have overlooked and misinterpreted the history of the Black Seminoles, it presents their role in the outbreak of the Second Seminole War (1835-1842) as the "largest slave rebellion in U.S. history." "Overview" provides an introduction to the features of the site and its interpretive themes as well as a "story synopsis" with a summary of the origins of the Black Seminoles, their role as rebels against slavery, their movement to Indian Territory after 1838, and a biography of John Horse. "Trail narrative" explains the history of the Black Seminoles "from their origins as a community to the death of their great leader John Horse in 1882" through 450 story panels with text and images. There are 360 "images," a picture tour with 32 images summarizing the site author's interpretation, and 23 "key images."
Other features include a key events summary, a guide to six central characters, a timeline, four interactive maps, and a listing of 17 related journal articles and nine newspaper articles available on the web. In addition to those interested in its interpretations of the history of the Black Seminoles and the Seminole War, this site offers useful material for those interested in Native Americans or the history of slavery in America.