At a Glance
Description
Read Dolley Madison's personal correspondence from her youth through her widowhood.
Website
Producer
Holly Shulman, Virginia Center for Digital History
Dolley Madison Digital Edition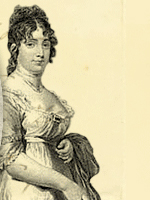 This website presents all known correspondence of the wife of James Madison, containing roughly 2,000 letters. Although many letters are thank-you notes or polite responses to social invitations, others offer rich insights into the personality and experiences of the First Lady, especially those exchanged with her sisters. The letters are organized into five periods: birth and youth; the years as wife of the secretary of state; the years as first lady; retirement; and widowhood. Users can search by name, date, topic, or place. A table of contents lists the letters by date, author, and recipient.
Additional features include a biographical sketch; "Crosslinks" listing all names (including nicknames, middle, and maiden) appearing in each letter, in order of appearance; a different color font to highlight unclear or missing characters or words; and a summary of the contents of each letter. Although the site is gated, a free trial option is accessible to all.