At a Glance
Description
Explore U.S. architectural styles and ornamentation, or date the buildings in your town.
Producer
Professor Jeffery Howe, Boston College
Digital Archive of American Architecture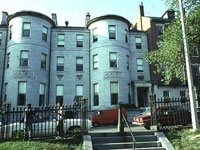 Provides nearly 1,500 images of 280 architecturally significant American buildings from the colonial era to the present, compiled by Professor Jeffery Howe for classroom use. Images are arranged according to period, location, architect, building type, and style. The site offers examples of houses, churches, public buildings, commercial buildings, and skyscrapers. It includes images from three World's Fairs, as well as sections on urban planning and comparative materials. Professor Howe also has digitized images and text from two mid-19th century books on design and ornament. Although image annotations are minimal, in conjunction with other materials, the images in this site will be useful to those studying American architectural history and urban history.