At a Glance
Description
Great Depression documentation of migrant work camps in central California.
Producer
American Memory, Library of Congress
Voices from the Dust Bowl: 1940-1941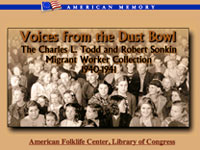 These materials examine Depression-era migrant work camps in central California. The Farm Security Administration (FSA) managed the camps that were primarily inhabited by migrants from the rural areas of Oklahoma and nearby states. The collection of materials include 371 audio recordings of songs, interviews, and camp announcements and transcriptions of 113 songs. Print and image materials include 23 photographs, newspaper clippings, and 11 camp newsletters.
Additional materials address the role of the ethnographer, including a Works Progress Administration folk song questionnaire; the field notes and correspondence of Charles L. Todd and Robert Sonkin, the original collectors of the materials; and two published magazine articles by Todd. Topics range from camp court proceedings and personal narratives to square dances and baseball games. The website also includes a bibliography, a background essay, and an essay on the recording expedition. This is a valuable site for the study of Depression-era migrants, their folk traditions, and the documentary impulse of the period.