At a Glance
Description
All 102 issues of the first African American newspaper conveniently presented in PDF format.
Producer
Wisconsin Historical Society
Wisconsin Historical Society: Freedom's Journal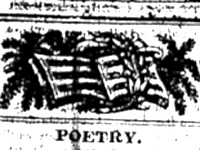 Freedom's Journal, published weekly in New York City between 1827 and 1829, was the first African American owned and operated newspaper in the U.S. This website presents digitized copies of all 102 issues of Freedom's Journal, available for download in PDF format. In the pages of this newspaper, visitors will find regional, national, and international news, anti-slavery and anti-lynching editorials, and biographies of prominent African Americans, as well as items of interest to New York's African American community, such as obituaries, births, and marriages. The website also provides several links to additional resources on the black press, including a brief biography of Freedom's Journal and a piece by one of the newspaper's subscription agents: David Walker's 1829 Appeal, which called for slaves to revolt against their masters, and is "arguably the most radical of all anti-slavery documents."