At a Glance
Description
Learn about FDR through this collection of political cartoons.
Producer
Niskayuna High School, New York
FDR Cartoon Archive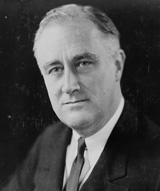 A continuing project of high school history and science classes, this site presents thousands of political cartoons concerning the presidency of Franklin D. Roosevelt.
Selected from the collection at the Hyde Park Presidential Library of Basil O'Conner—Roosevelt's New York City law partner—the materials are arranged into eight subject categories and often include brief background essays and questions designed to prompt further inquiries. Periods currently emphasized include 1932, "The Road to Pennsylvania Avenue"; 1937, "The Supreme Court"; and 1943, "The War Years."
Well-conceived and executed, the site also gives the texts of Roosevelt's inaugural addresses and a page of teacher resources and suggested projects.