At a Glance
Description
Trace Virginia's route to secession in the Civil War with more than 200 primary sources.
Producer
Library of Virginia
Union or Secession: Virginians Decide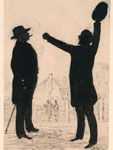 Created by the Library of Virginia as part of its Virginia Memory project, this website lets visitors explore the events leading up to and immediately following Virginia's secession from the Union on April 17, 1861. Short essays and more than 200 primary sources, including newspaper articles, speeches, letters, prints and drawings, official documents, maps, and other materials, present the story from a variety of perspectives, including those of women, African Americans, and people both pro- and anti-secession.
The website is divided into six different sections, each providing a different way of approaching the content. "Virginians Decide" divides Virginian history from the beginning of 1860 to July 1861 into 12 chronological sections, covering events including the 1860 presidential election, the meeting of the Virginia Convention of 1861, the formation of West Virginia, and the entrance of Virginia into the Civil War. Each section features a 300–500-word essay introducing the topic, accompanied by 5–45 related primary sources, links to the biographies of related historical figures, and 1–3 more short essays looking at aspects of the topic in greater detail. "Explore" lets visitors search all of the site's primary sources by 11 themes (Business and Economics, Convention of 1861, Elections and Politics, Journalism, Making West Virginia, Military, Restored and Loyal Government, Secessionism, Slavery, Unionism, Women) and seven geographical regions.
Visitors can get to know more about the people in the sources in "People." Forty 400–2,500-word biographies give overviews of the lives of journalists, members of the Convention of 1850–1851 and of 1861, members of the Wheeling Convention, politicians, ministers, escaped slaves, free black businessmen, writers, army officers, slave traders, and others. Each biography includes related primary sources and links to related biographies. "Timeline" lets visitors browse sources arranged on an interactive timeline covering 1849 to 1862, and "For Educators" includes four downloadable lesson plans (on John Brown and the Fugitive Slave Law).
Of special interest to educators is "Callie's Mailbag." This section gathers together 22 letters sent to a young educated Virginian woman, daughter of a secession-sympathetic Campbell County family. Callie Anthony was in her early 20s when she received these letters, which date from Dec. 1859 to Jul. 1861 and come from relatives and friends, expressing a wide range of pro- and anti-secession views.
Scanned documents and images can be downloaded in high resolution, and transcripts of written and printed documents are also downloadable. A valuable site for anyone teaching Virginian Civil War history, or wanting to give students a closer look at tensions in a seceding state.