At a Glance
Description
Wisconsin teachers, bring the Civil Rights Movement home to your students with this archive of primary sources.
Website
Producer
University of Wisconsin--Milwaukee
The March on Milwaukee Civil Rights History Project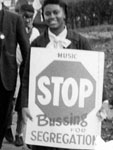 A project of the University of Wisconsin—Milwaukee, The March on Milwaukee Civil Rights History Project preserves the history of the Civil Rights Movement in Milwaukee, WI. In the late 1960s, the open housing movement worked to break down housing restrictions that segregated the city's population. Milwaukee residents of all ages and walks of life supported or opposed this movement.
The site features more than 150 digitized primary sources from the period, including oral histories, letters to organizations, support and hate letters, meeting minutes, Henry Maier's 1967 mayor's log, speeches, press releases, photographs, official reports and research studies, video clips, curriculum and programming from Freedom Schools (alternative schools children could attend during school boycotts), and more. Sources can be searched by keyword and browsed by media type (audio, documents, photos, or video) or collection (materials are divided into 10 collections by relationship to prominent individuals and groups in the movement). Visitors can add sources to "My Favorites" and review them as they browse.
In addition, a downloadable map shows the division of Milwaukee neighborhoods in 1967 and the path of the Aug. 28 open housing march, and a timeline tracks local and national events from 1954 to 1976. A glossary of key terms gives the context for more than 60 acronyms, names, places, and other terms, and a bibliography lists more than 40 primary sources and more than 50 secondary sources.
Teachers may need to do a little extra legwork to contextualize the primary sources, but the collection can bring Civil Rights Movement history home to Wisconsin students, particularly those in Milwaukee and the surrounding area. Teachers nationwide can use the materials to explore the work of the Congress of Racial Equality (CORE), NAACP Youth Council, and local institutions like Freedom Schools and integration committees.