At a Glance
Description
View Prairie School works by famed architects and designers Wright, Sullivan, Elmslie, Purcell, and Maher.
Producer
Minneapolis Institute of Arts
Unified Vision: The Architecture and Design of the Prairie School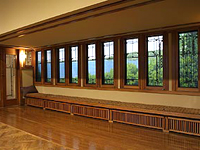 This beautifully designed site showcases the Prairie School architecture and design collection at the Minneapolis Institute of Art, demonstrating the work of architects such as Frank Lloyd Wright, Louis H. Sullivan, William Gray Purcell, George Grant Elmslie, and George Washington Maher. The site features photographs of 43 artifacts, 37 houses and other buildings, and 12 examples of architectural detail from the Prairie School; thirteen floor plans architectural drawings, and six suggested tours; and biographical information. Users can zoom in on many images and some feature a 360-degree view. These materials provide a good sense of visual architecture and design for time period from the 1884-1921. Limited to area around Minneapolis.