At a Glance
Description
Explore radical activism and 1960s culture through the trial of the Chicago Seven.
Producer
Douglas Linder, Professor, University of Missouri-Kansas City, School of Law
Trial of The Chicago Seven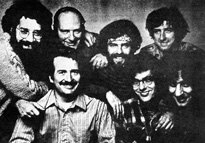 One of the Famous American Trials sites created by Douglas Linder of the University of Missouri, Kansas City, School of Law, this site explores the 1969-1970 trial of the Chicago Seven, a group of radicals accused of conspiring to incite a riot at the 1968 Democratic National Convention in Chicago. Linder provides a 1500-word account of the trial, which includes links to brief (100-word) explanations of specific terms and biographies of some of the key figures. The site provides a chronology of the lives of those involved in the trial from 1960 to 1998; images of two Yippie posters; a map of the key Chicago riot sites; and roughly 350-word biographies of 15 of the defendants, lawyers, and other figures in the trial. There are ten audio clips of defendants, prosecutors, and witnesses discussing various aspects of the riots and the trial. The site offers full-text versions of the indictment against the Chicago Seven, the trial manuscript, the contempt of court specifications against two of the defendants, and the appellate decision that overturned the contempt convictions and the convictions for intent to incite a riot. Additionally, there are 16 images of the riots and key figures and 14 quotations. A bibliography of 13 websites and 15 scholarly works leads to other sources for studying the Chicago Seven's trial and their lives as radical activists. This is an ideal site for researching 1960s activism and culture.