At a Glance
Description
Games can be more than mindless fluff. When content-rich, they can engage your students in learning during play.
Website
Producer
iCivis, Sandra Day O'Connor
iCivics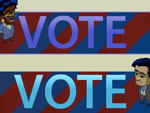 iCivics teaches students civics by way of online casual gaming. Don't write the site off because it consists primarily of games. Most of them are actually both entertaining and educational.
Games are divided into sections—Citizen Participation, the Constitution and Bill of Rights, Budgeting, Separation of Powers, the Executive Branch, Legislative Branch, and the Judicial Branch, with one to four games each. Games can also be sorted by overall time needed to play.
Try Cast Your Vote to learn to prioritize issues of importance to you and evaluate political candidates, Immigration Nation to learn reasons why people are and are not allowed into the country, Do I Have a Right? to review your amendments, Branches of Power to emphasize the relationships among the three branches of government, Executive Command to discover the responsibilities of the President, People's Pie to create a national budget, or Counties Work to manage county services. For an in-depth example, take a look at our Tech for Teachers entry on Do I Have a Right?.
Note that games include teacher's guides in the menu below the play area. Select Teachers' Tools, and look under Teacher's Files. Also under Teachers' Tools, you can search by your state name to find any standards directly related to the game in question.
Players can also earn points, and spend them on various causes such as Teens Against Domestic Abuse. The causes with the highest points each three months are awarded a monetary prize. This gives gaming point acquisition a real-life application.
In addition to games, the website offers curriculum units on budgeting, foundations of government, citizenship and participation, persuasive writing, and each of the three branches of government. These packages include lesson plans, appropriate iCivics games, and webquests. Webquests consist of thematic information linked to resources on external websites. You can also search for appropriate content by specific state standards, and/or register to create a class account.