At a Glance
Description
The Smithsonian offers rich resources for teachers, but tracking them down can be difficult. Use History Explorer's rich search features to make your hunt easier!
Website
Producer
Smithsonian National Museum of American History, Verizon Thinkfinity
History Explorer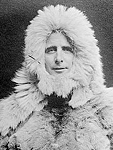 In 2008, the Smithsonian launched History Explorer, in partnership with Verizon's Thinkfinity. Designed as a portal into the National Museum of American History's online resources, the site lets users search or browse the museum's resources. Use the keyword search to look up artifacts, interactives/media, lessons/activities, primary sources, reviewed websites, reference materials, and worksheets; narrow the search by selecting grade levels, historical era, resource type (artifact, lesson, worksheet, etc.), and/or cross-curricular connection.
Or browse by content type, using the tabs at the top of the page—"Lessons and Activities" contains more than 300 resources designed for teacher presentation; "Interactives and Media" contains more than 100 resources including audio, video, or interactive components; and "Museum Artifacts" contains more than 300 artifacts suitable for object-based learning. All individual entries list related content and relevant National History Standards and teaching strategies.
"Themes" offers collections of resources for major U.S. history topics such as immigration and civil rights; "Books" lists synopses for nearly 300 books suitable for reading levels varying from preschool to adult; and "Teacher Resources" includes information on teaching with primary sources, webinars, and joining the Thinkfinity Community. Check "Web Links" for links out to more than 100 history websites, chosen for design, usability, and content.