At a Glance
Description
Work through the Fort Sumter crises alongside our nation's leaders.
Website
Producer
Richard B. Latner, Tulane University
Crisis at Fort Sumter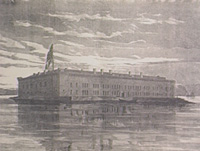 This site provides documents, essays, and questions about the events leading up to the Confederate attack on Fort Sumter in 1861 and places the events within a broader context of secession and southern independence.
There are nine chronological sections and students must make decisions at five "critical junctures," soliciting advice from official and unofficial advisors. Students can compare their choices with Lincoln's, and a commentary section challenges students to explore multiple interpretations of events. "Hotwords" provide additional information on topics throughout the simulation.
Provides over 200 references in the bibliographic section.
Well-designed activity for helping students at the high school and college level explore the issues surrounding the Civil War.