At a Glance
Description
Introduce students to 25 documents selected by the National Archives for their historical importance.
Producer
National Archives and Records Service
American Originals Part II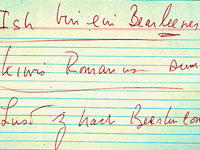 A presentation of more than 25 "of the most treasured documents in the holdings of the National Archives" with 10 contextual essays of up to 300 words in length. Arranged in chronological sections, corresponding to eras suggested by the National Standards for History, this site provides facsimile reproductions of important documents relating to diplomacy, presidents, judicial cases, exploration, war, and social issues. Includes the Treaty of Paris ending the American Revolutionary War (1783); receipts from the Lewis and Clark expedition (1803); the judgment in the Supreme Court's Dred Scott Decision (1857); Robert E. Lee's demand for the surrender of John Brown at Harper's Ferry in 1859; the Treaty of 1868 with the Sioux Indians; an 1873 petition to Congress from the National Woman Suffrage Association for the right of women to vote, signed by Susan B. Anthony, Matilda Joslyn Gage, and Elizabeth Cady Stanton; and a 1940 letter from student Fidel Castro to Franklin D. Roosevelt asking for a ten-dollar bill. Provides links to teaching suggestions for two of the documents. A good site for introducing students to a variety of the forms of documentation accumulated in the collections of the Archives.