At a Glance
Description
See the faces of the rural South, and acquaint yourself with their folk arts.
Producer
University of Oregon Libraries
Doris Ulmann Photograph Collection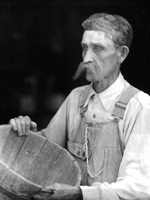 This collection of more than 1,700 photographs by Doris Ulmann (1882-1934) documents the rural people of the South, in particular the people of Appalachia and the Georgia-Carolina Sea Islands. "Ulmann's photographs represent important primary source material for historical and ethnographic studies of Appalachian and Gullah culture as well the subject of folk arts and craft traditions." Of particularly interest in the collection are the images of Appalachian craftspeople performing their crafts, such as quilting, whittling, weaving, hooking rugs, spinning, and making baskets and ceramic ware.
The visitor can browse all the images in the collection or search the collection by keyword. An advanced search by numerous categories including subject, title, date, place, and name is also available. Each image is accompanied by full bibliographic information. This collection is a useful resource both for those teaching or researching Appalachian or Sea Islands folk culture and for those with a broader interest in the social and cultural history of the South in the early 20th century.