At a Glance
Description
Looking for official documents concerning the U.S. stance on terrorism?
Website
Producer
George Washington University
September 11th Sourcebooks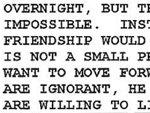 This archive collects U.S. official documents concerning the national stance toward terrorism. Documents are sorted into several "volumes," which cover topics such as policy, the last war in Afghanistan, Nixon and the end of biowarfare programs, the reign of King Zahir (1970-1973), the 1979 Sverdlovsk anthrax controversy, the U.S. Special Force's search for bin Laden, U.S.-Taliban policy, and the air-ground transcripts of the planes lost during the 9/11 crisis.
Expect to find reports, memorandum, instructions, statements, transcripts, minutes, and more. The site and its content can be fairly dense, so it may be best to use the site to find one or two documents which are suitable for your classroom rather than having students explore it on their own.