At a Glance
Description
When was Texas part of Mexico? The U.S.? Separate?
Producer
Tarlton Law Library, University of Texas School of Law
The Texas Constitutions Digitization Project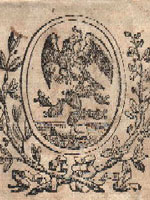 Facsimiles and transcriptions of 12 Texas Constitutions from 1824 to 1876. Constitutions include the 1824 Federal Constitution of United Mexican States, in Spanish with an English transcription; the document that joined Texas to the U.S. in 1845; the 1861 secession constitution; and the 1869 reconstruction version. Visitors may search all constitutions by subject. The site provides annotated bibliographies of 61 primary source documents and 55 books and articles about Texas constitutions. Links to 13 sites about Texas history and constitutions in general. The site is easy to navigate and will be interesting for research on legal history and the west.