At a Glance
Description
Explore the history of Maine, and create your own digital album.
Website
Producer
Maine Historical Society
Maine Memory Network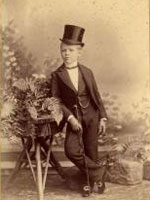 This site has two primary goals: to serve as a resource center for Maine history, and to assist classroom teachers as they teach American and Maine history. The site provides a search engine for its 5,700 primary sources (photographs, artwork, and documents), while the 34 online exhibits cover subjects including the 20th Maine regiment in the Civil War, Irish immigration, and Maine during the Revolutionary War.
Particularly interesting is My Album, where visitors can select, save, and arrange photographs and add text. Albums can be viewed in a slideshow or shared with other visitors through email or by storing them in a publicly accessible folder (users must register and give personal information to use this feature).
In addition to the nine lesson plans for teachers, there is a Community Gallery, where visitors can view 15 exhibits created by elementary, middle, and high school students posted for public viewing.