At a Glance
Description
View 400 hundred years of cartography from the Illinois area.
Producer
University of Illinois Library and University of Illinois Press
Historical Maps Online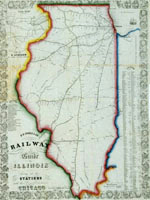 This website offers more than 400 images of historic maps charting 400 years of development in Illinois and the northwest territory. The collection of maps can be browsed by state or geographic area or by categories such as early maps, topographic maps of Illinois, Indians of North America, waterways, and transportation. Types of maps include maps showing roads and canals, topographical maps, French and Spanish colonial maps, maps of railways, city maps, county and township maps, maps showing regions of settlement, and sectional state maps.
A zoom and pan feature allows the map images to be examined in detail and bibliographic information is provided with each map image. A keyword search is available. An excellent source of historic maps.