At a Glance
Description
A daily exhibit which showcases a particular event in American History each day.
Website
Producer
American Memory, Library of Congress
Today in History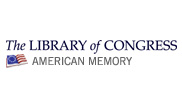 This exhibit changes daily and includes text, images, and sound or video clips, where appropriate, for each day's event. The material comes from the Library of Congress's American Memory collections. Topics range widely and have included the establishment of Oregon as a state, Stalin's request that the U.S. invade Western Europe, and the Hawaiian swimmer Duke Kahanemoku's 1911 freestyle record. The site provides links to American Memory collections as well as suggestions for finding more information on the same or related topics. This attractive and well-designed site would be useful for teachers wishing to get students involved in a daily exercise in history or for teachers hoping provide a broad sense of what can count as history.