At a Glance
Description
A collection of primary sources detailing early Asian-Americans in Tucson, Arizona.
Producer
University of Arizona Library
Promise of Gold Mountain: Tucson's Chinese Heritage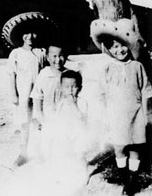 This is a collection of material about the history of Chinese-Americans in Tucson, Arizona. It is one of five sections in an exhibit about ethnic diversity in Tucson. The site includes four 600-1,200-word biographies of Chinese-Americans in Tucson. Chinese-American history in the Tucson area is discussed in three 600-word essays about the railroads, farming and small business, and the development of Chinatowns in Tucson. Highlighted text in each essay links to three to ten photos. There are seven video clips of interviews of 20 seconds to two and a half minutes with and about a Chinese-American woman who grew up in Tucson in the 1940s. A page of sources lists eight books and articles about Chinese settlement in the west. The site will be useful for research about Asian-Americans, the west, and ethnicity in general.