At a Glance
Description
Look to the Library of Congress for your election and electoral congress needs.
Producer
American Memory, Library of Congress
Presidential Elections and the Electoral College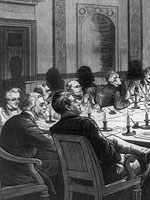 This website is part of the Library of Congress exhibit, "A Century of Lawmaking for a New Nation: United States Congressional Documents and Debates 1774–1873." It provides links to the Library's extensive holdings on American presidential elections and the electoral college.
Ten links to resources from the Library's feature "Today in History" provide 250-word discussions of noted events and include links to 20–30 online documents for each feature. These documents include presidential campaign and inauguration speeches, government documents such as the certification in Congress of the first electoral college's balloting, controversies regarding the electoral college, and journals from late-18th and early-19th century political figures like William McLay.
Keyword searches make all of the Library's digitized documents on any given subject available through this site as well. This site is ideal for researching America's first century of political history.