At a Glance
Description
Follow the proceedings of the Dred Scott case with facsimiles and transcriptions of 85 legal documents.
Producer
Washington University Libraries, St. Louis
Dred Scott Case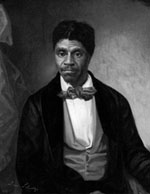 The Dred Scott case began in 1846 when slaves Dred and Harriet Scott sued for their freedom, basing their argument on the fact that they had lived in non-slave territories for a number of years. The case ended with the landmark U.S. Supreme Court decision of 1857 that not only denied Scott both citizenship and the right to sue in federal court, but ruled that he never had been free and that Congress did not have the right to prohibit slavery in the territories. The decision sparked increased sectional tensions in the years leading to the Civil War. Facsimiles and transcriptions of 85 legal documents relating to the Dred Scott case are provided on this website. The site also provides a chronology and links to 301 Freedom Suits—legal petitions for freedom filed by or on behalf of slaves—in St. Louis courts from 1814 to 1860.