At a Glance
Description
Have you heard of musicians' unions? Learn about a 20th-century African American jazz organization.
Producer
University of Missouri-Kansas City, Miller Nichols Library
Musicians Local No. 627 and the Mutual Musicians Foundation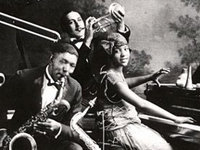 Kansas City's Local 627, one of several African American musicians' unions affiliated with the American Federation of Musicians, was founded in 1917. This website traces its history over the course of the 20th century. This history is divided into nine chronological sections, including introduction to the roots of Kansas City jazz style, early jazz bands, bigger bands and a new headquarters for the organization, jazz during World War II, the thriving music scene in the 1950s, the merger with Local 34, and the efforts of the Mutual Musicians Foundation to promote jazz in the 1960s and 1970s.
Upon entering each section, visitors are greeted by a video presentation of photographs of prominent Kansas City musicians and newspaper articles documenting their accomplishments, accompanied by a jazz soundtrack. In addition to explanatory text introducing musicians and prominent events in Kansas City history, each section also includes roughly 20 photographs, as well as a few songs of the era, which can be listened to using RealPlayer. Useful for those interested in Kansas City history or in U.S. music culture in the 20th century more generally.