At a Glance
Description
See the Civil War as it happened in Union soldier Knox Sneden's watercolors.
Producer
Michael Johnson, Adam Stoltman, and Alan Dorow, Journal E
Eye of the Storm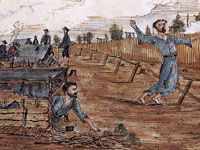 In 1994, a rare book dealer brought to the Virginia Historical Society a most remarkable find—over 500 watercolor drawings and maps by Union Army Private Knox Sneden. Sneden's art depicting life as a Civil War soldier, along with his diary/memoir, was recently published by The Free Press.
This website features images and diary entries drawn from the book, entitled Eye of the Storm; and details in vivid watercolors, maps, and journal entries, events from the Civil War as witnessed by Sneden. The site offers over 40 entries from Sneden's diaries from 1861 to December 1864, accompanied by 20 of his watercolors depicting battle scenes, camp life, and maps of the areas in which Sneden served.
There is a roughly 500-word overview of Sneden's life before the Civil War and as a soldier during the war. There are also four Flash presentations of approximately 40 more watercolors depicting particular incidents Sneden witnessed. These feature comments about the scenes by Charles F. Bryan, Jr., Director of the Virginia Historical Society, and related descriptions from Sneden's journals. Incidents featured include a surprise artillery attack by Rebels against a Union fortification, views of battles, and sabotage operations.
This site gives unique insight into the war through the eyes of a talented soldier and is an ideal source for illustrations and firsthand accounts of the Civil War.