At a Glance
Description
Attention Secondary teachers! Searching for essays on religion, the environment, or African Americans in U.S. history? TeacherServe is here for you!
Website
Producer
National Humanities Center
TeacherServe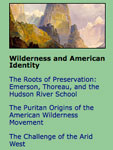 These three collections of essays, commissioned from distinguished scholars are designed to deepen content knowledge in American history and offer fresh ideas for teaching. Essays include many links to primary source texts in the National Humanities Center's Toolbox Library. Divining America: Religion in American History features 36 essays, divided into three subcategories: "The 17th and 18th Centuries," "The 19th Century," and "The 20th Century." Topics range from "Native American Religion in Early America" to "The Christian Right," and include Puritanism, the First and Second Great Awakenings, abolitionism, Islam in the U.S., African American Christianity, American Jewish experience, U.S. Roman Catholicism, and Mormonism. Nature Transformed: The Environment in American History features 17 essays, divided into "Native Americans and the Land," "Wilderness and the American Identity," and "The Use of the Land." These focus on the changing ways in which North Americans have related to the natural world and its resources. Topics include, "The Columbian Exchange," "The Effects of Removal on American Indian Tribes," "Cities and Suburbs," and "Environmental Justice for All." Freedom's Story: Teaching African American Literature and History addresses topics ranging from the early 1600s through to contemporary times. These 20 essays include, "How to Read a Slave Narrative," "Segregation," "The Trickster in African American Literature," "Jazz in African American Literature," and "The Civil Rights Movement: 1968-2008." Essays provide an overview of the topic. "Guiding Discussion" offers suggestions on introducing the subject to students, and "Historians Debate" notes secondary sources with varied views on the topic. Notes and additional resources complete each essay.