At a Glance
Description
The life of famous evangelist Billy Sunday is chronicled on this website.
Producer
Billy Graham Center Archives, Wheaton College
Hitting the Sawdust Trail With Billy Sunday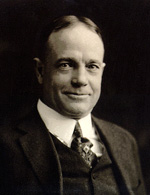 This site provides information about the American evangelist Billy Sunday (1862-1935). A 400-word biographical essay, accompanied by seven images, traces Sunday's background. A 750-word essay with 22 images describes selected exhibit items, including 26 photographs of Sunday, eight photographs of Sunday's associates, 9 photographs and a blueprint of Sunday's tabernacles, a prayer pamphlet, a clippings scrapbook, samples of press coverage, and sermon notes. Many of these items are presented as images, not as readable texts. The site furnishes researcher information on the Sunday Papers, held at the Billy Graham Center in Wheaton, Illinois, and includes a link to a website with an audio file of a Sunday sermon on "booze."