At a Glance
Description
Learn about Native American technology, including wigwams, beadwork, pottery, and tools.
Website
NativeTech: Native American Technology and Art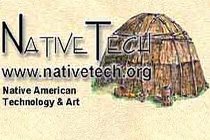 This site is dedicated to the history and continuing development of Native American technology and arts. It is designed and maintained by Tara Prindle, an archeologist on the Program and Events Committee of the Nipmuc Indian Association of Connecticut. A 500-word historical essay and five to ten illustrated descriptions of techniques introduce each of the 12 sections, including beadwork, stonework and tools, pottery, poetry, and food. A section on beadwork presents seven photos of 18th-century beadwork alongside six technical drawings. For five different kinds of beadwork, from bone to glass, the site provides between ten and 100 illustrations of beads. A section on wigwams contains nine pages of writings about wigwams from the 17th century as well as a photographic guide to building your own wigwam. Special features include more than 50 links to sites about Ojibwe language, history, art, and culture and a collection of illustrated essays (400-1,500 words) about Seminole men's clothing. Links to 58 sites about contemporary issues in Native American art, such as counterfeiting, and more than 100 Native American clubs and message boards. A useful site for research in Native American cultural and material history.