At a Glance
Description
Delve into Texas law from early colonization through 1897.
Producer
University of North Texas Libraries, Government Documents
Nineteenth-Century Texas Law Online: Gammel's The Laws of Texas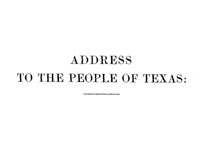 H. P. N. Gammel's 10-volume compilation The Laws of Texas, 1822-1897 is available in PDF format on this site, providing more than 16,500 pages of historical legal documents. Includes early colonization laws and constitutions, proceedings from constitutional conventions, and all laws and resolutions passed from every congressional and legislative session from statehood to 1897. Users may browse each volume or an analytical index of the whole work, or take advantage of a search engine that allows keyword searching. Includes six links to related sites.
Valuable for those conducting research into 19th-century Texas history or legal history.