At a Glance
Description
Explore the assassination of President McKinley and the social context thereof.
Producer
C.A. Gable and S.N. Huthmacher
McKinley Assassination Ink: A Documentary History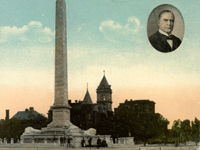 On September 14, 1901, American anarchist Leon Czolgosz assassinated President William McKinley, propelling Theodore Roosevelt onto the U.S. political stage and, some historians would argue, making way for political modernization. Through hundreds of documents and images—including book chapters, newspaper articles and columns, sermons, poetry, and government documents—this website explores the McKinley assassination alongside U.S. politics and culture before and after.
Topics include turn-of-the-century journalism, race relations, anarchism, women's roles, the death penalty, international relations, and the Pan-American Exposition in Buffalo, NY, where McKinley was shot. A good place to begin is the "Quotes About" section, which provides short excerpts from a variety of sources that serve to familiarize users with conflicting views of McKinley, Czolgosz, Roosevelt, the assassination, Czolgosz's trial, and anarchism in the United States. All documents are keyword searchable and indexed by date, author, title, type, named persons, and source. An extensive bibliography provides suggestions for further reading.