At a Glance
Description
Secondary and primary sources describe 13 African American migration experiences.
Producer
Schomburg Center for Research in Black Culture
In Motion: The African-American Migration Experience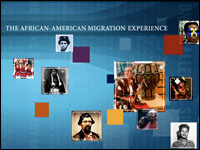 Migration, both forced and voluntary, remains a prominent theme in African American history. This website is built around the history of 13 African American migration experiences: the transatlantic slave trade (1450s–1867), runaway journeys (1630s–1865), the domestic slave trade (1760s–1865), colonization and emigration (1783–1910s), Haitian Immigration (1791–1809), Western migration (1840s–1970), and Northern migration (1840s–1890).
Twentieth-century migrations include the Great Migration (1916–1930), the Second Great Migration (1940–1970), Caribbean immigration (1900–present), the return South migration (1970–present), Haitian immigration in the 20th century (1970–present), and African immigration (1970–present). More than 16,500 pages of texts, 8,300 illustrations, and 67 maps are included. An interactive timeline places migration in the context of U.S. history and the history of the African Diaspora.